Main content starts here, tab to start navigating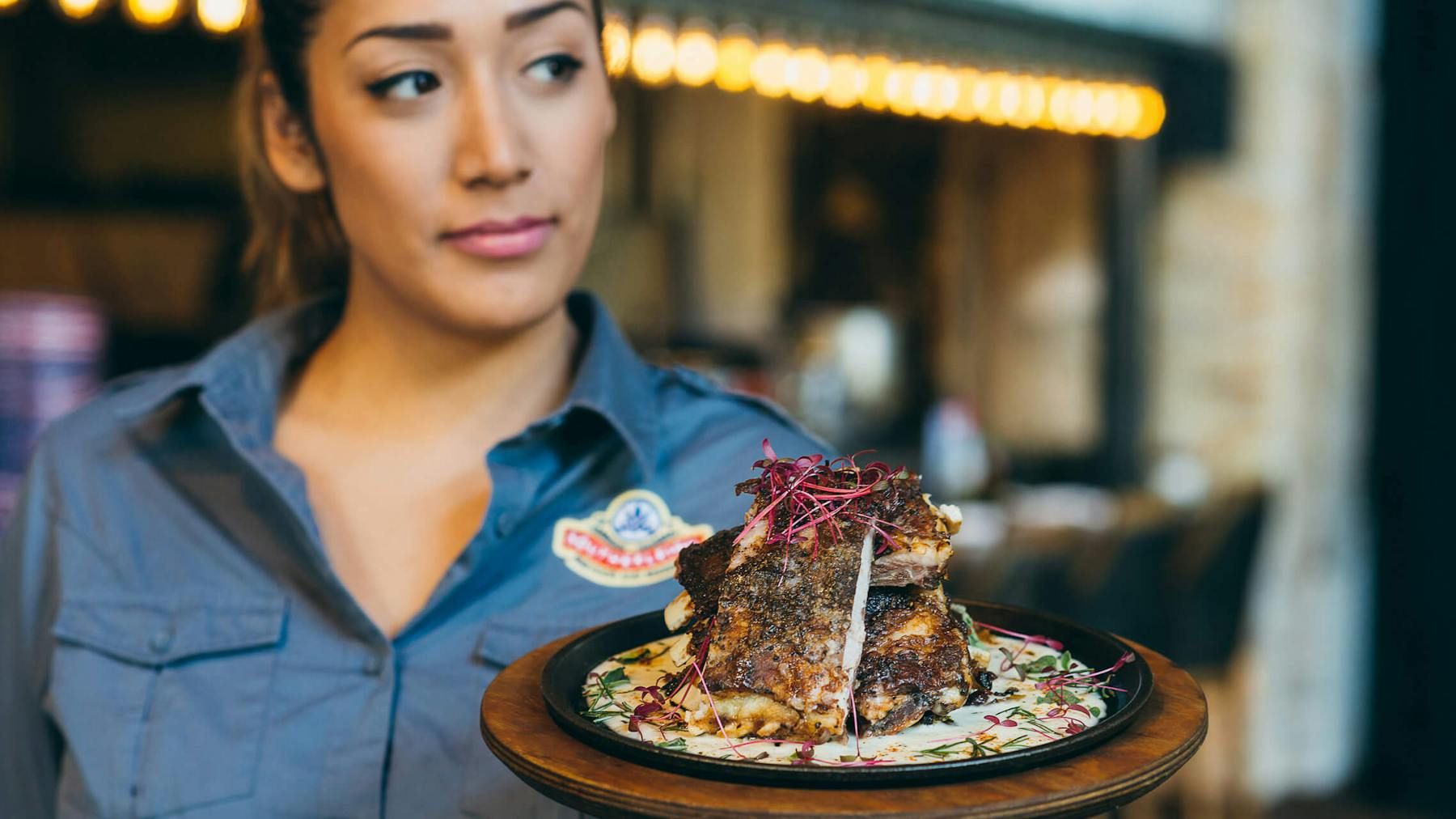 Slide 1 of 5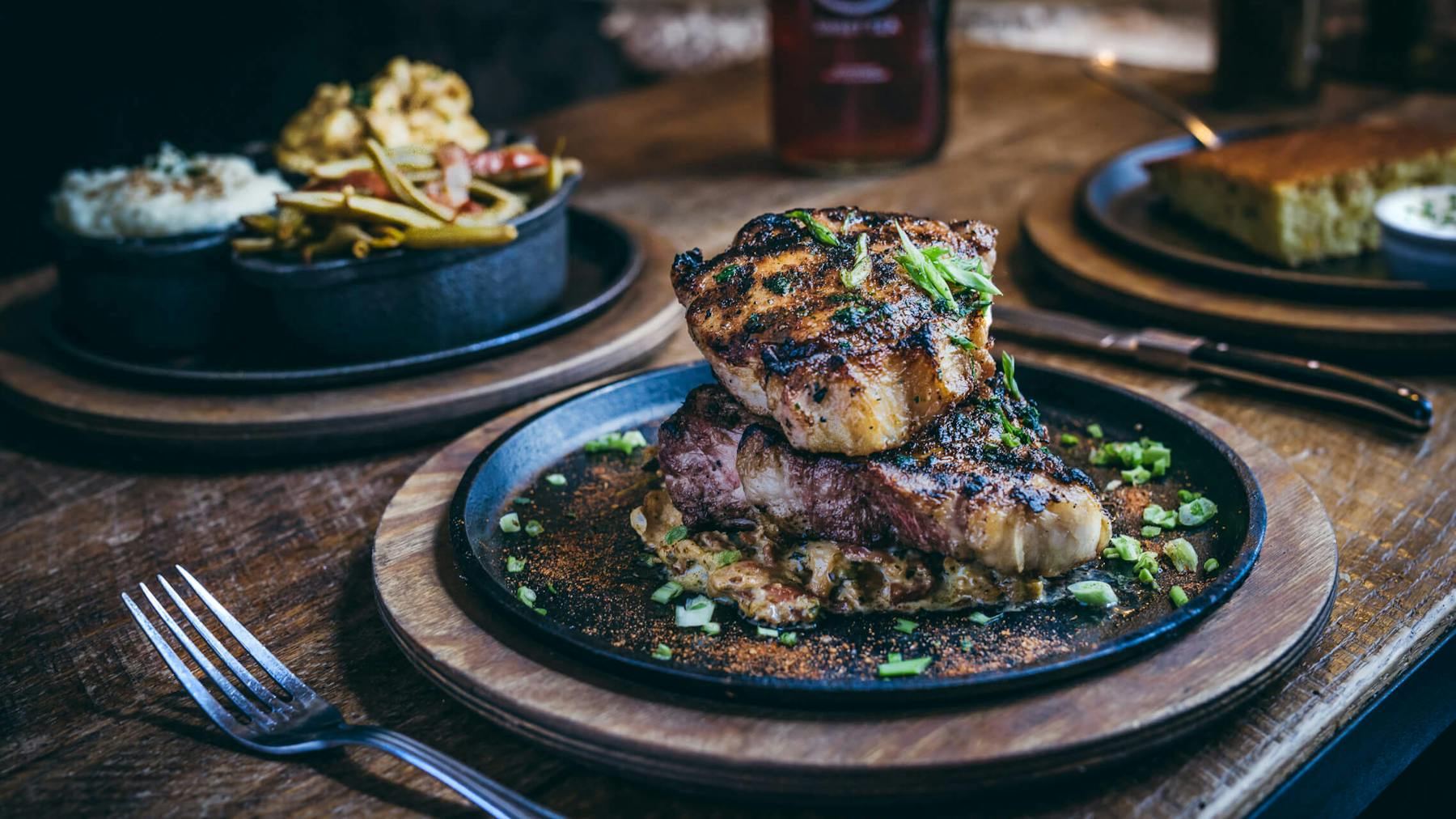 Slide 2 of 5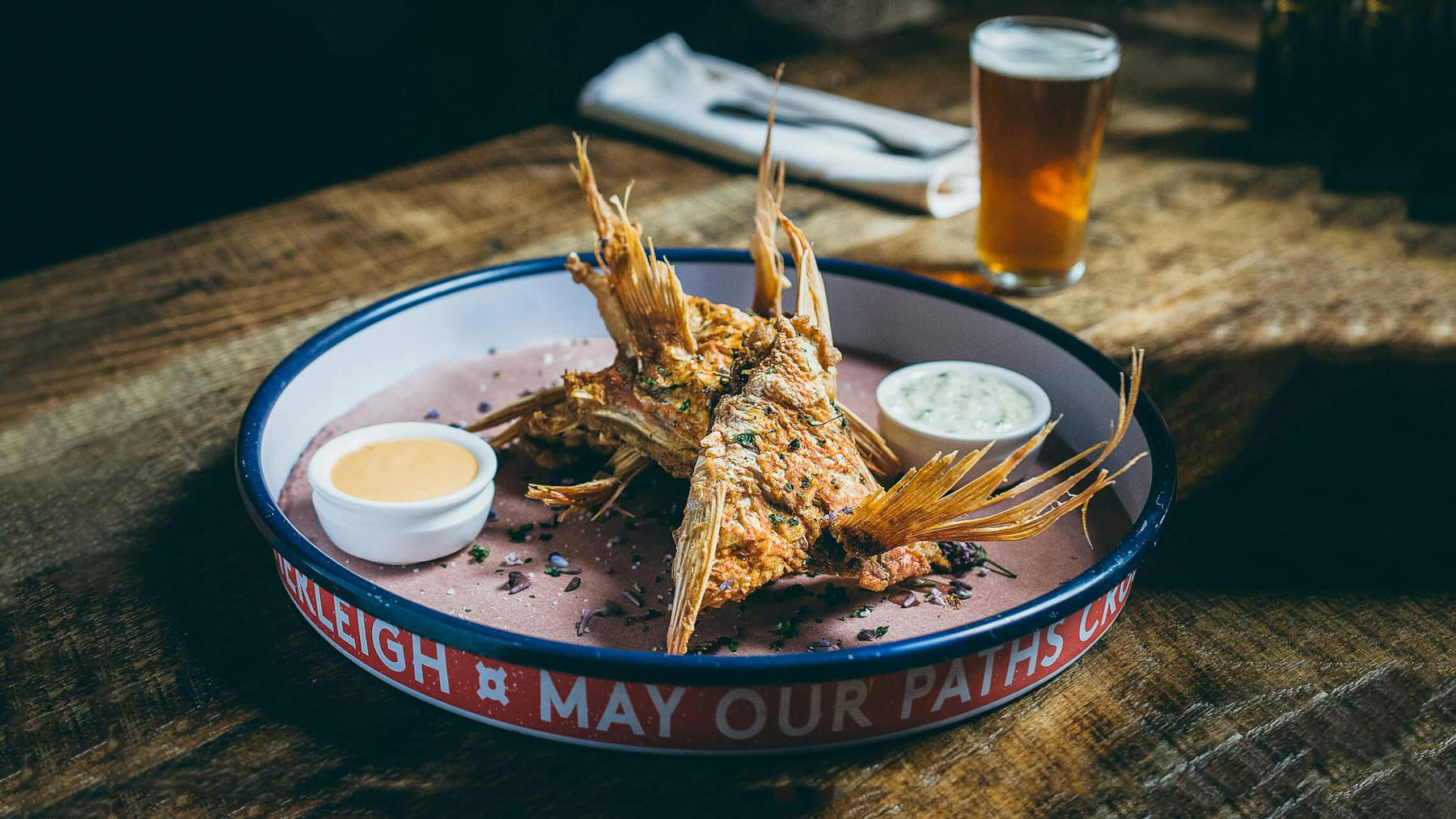 Slide 3 of 5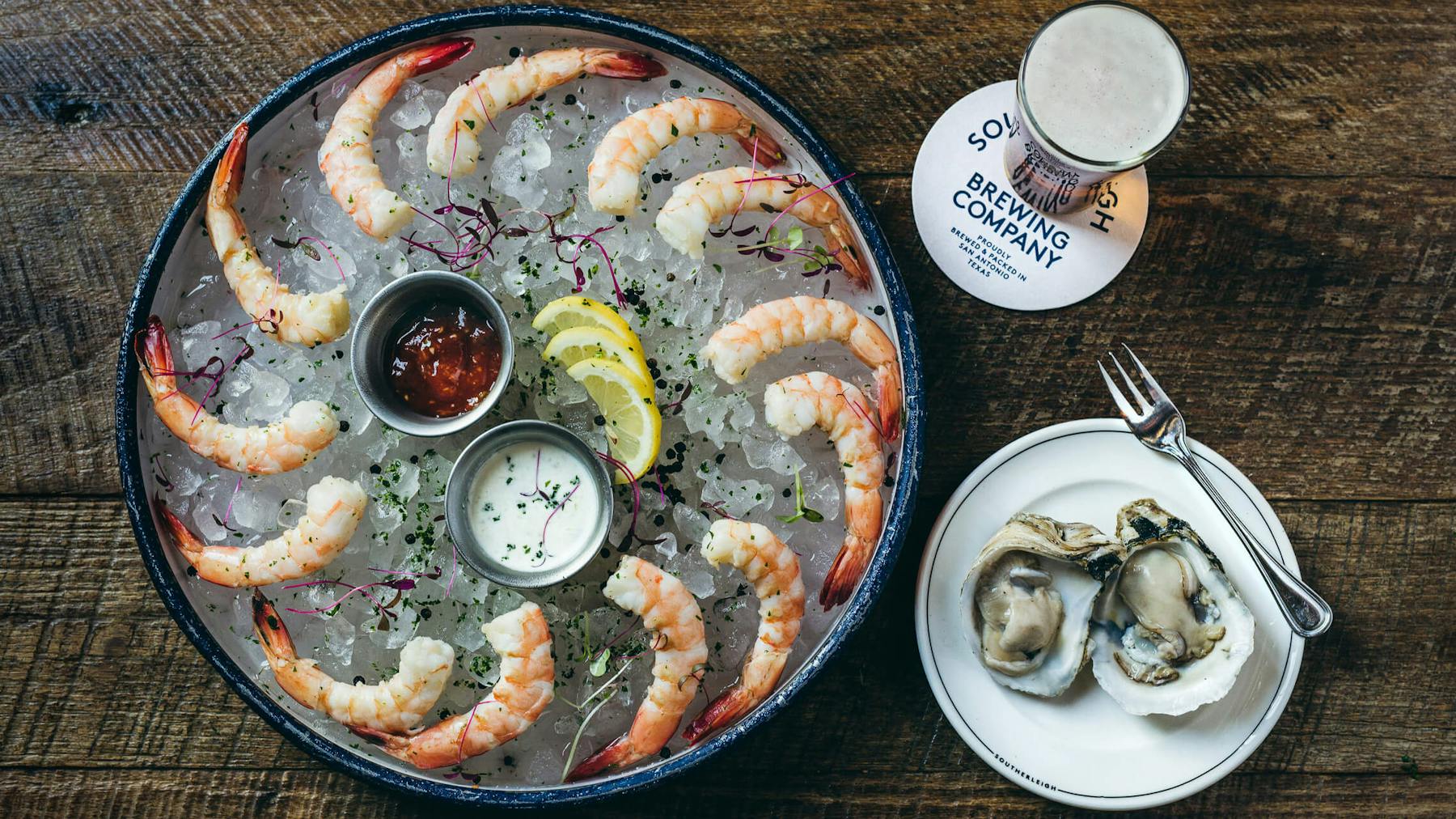 Slide 4 of 5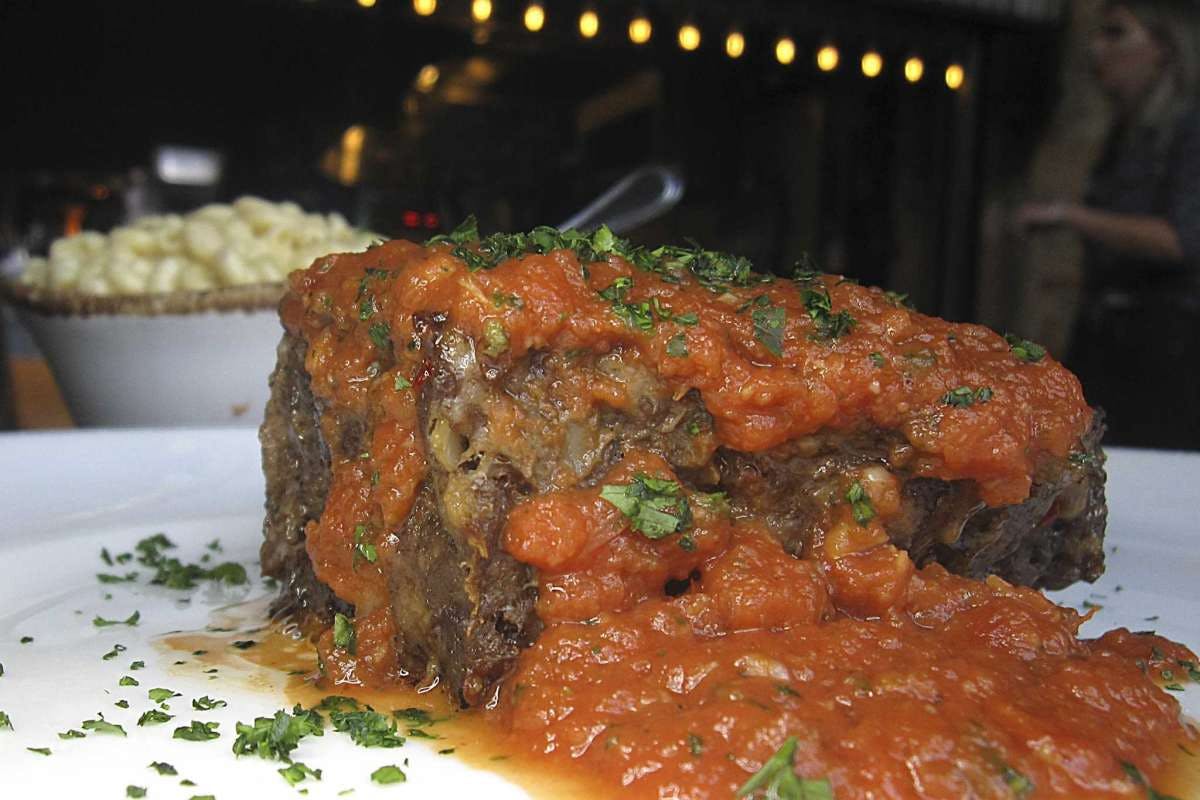 Slide 5 of 5
All Day
Served Monday-Friday 11am-Close
For The Table
Southerleigh's Famous Fried Snapper Throats

Crystal Aioli, Celery Root Remoulade | *subject to availability

$16

Deviled Eggs

Sweet Bacon Jam

3 pcs $7

12 pcs $24

gluten free

Wood Fired Pretzel

Beer Cheese, Sweet Pickle Mustard

$9

South Texas Antelope Tartare

Saltines, Egg, Candied Jalapeno.

$15

Fried Frog Legs

Lyonnaise Aioli

$15

Watermelon Salad

Cantaloupe, Parsley, Red Onion, Citrus Mint Vinaigrette

$12

gluten free

Cottage Cheese and Peaches

$11

gluten free

Galveston Bay Shrimp Boil

Sausage, Corn, Potatoes, Drawn Butter, Celery Root Remoulade. 1 lb.

$28

gluten free
Larger Plates
Southerleigh's Famous Pressure Fried Chicken

Half Bird served with Southerleigh Tiger Sauce, White BBQ

$19

Cracker Crusted Gulf Redfish

Butter Poached Blue Crab, Lemon Butter Sauce

$29

Crispy Gulf Snapper "Américaine"

Roasted Garlic and Lemon Pepper Spaghetti

$26

Pan Seared Scallops

Pickled Corn Succotash, Bearnaise

$25

gluten free

Rotisserie Roasted Porchetta, Pork and Sausage Jambalaya

with Flash Fried Okra

$28

gluten free

Classic Meatloaf

Smoked Tomato Sauce, Arugula

$16

Char-Grilled Ribeye

Dark Rum Glace, Fingerling Potatoes, Black Shallot Chimichurri.

$42

gluten free
Salads
Seafood Salad

Lemon Vinaigrette, Gulf Shrimp, Blue Crab, Marinated Calamari, Avocado

$19

gluten free

Southerleigh Caesar

Pretzel Croutons, Crisp Iceberg Lettuce, Pickles

$10

gluten free

Add Chicken $4

Add Shrimp $8

House Salad

Chopped Romain, Shaved Radish, Rebel Tomatoes, Sweet Pickles, House Croutons, Pecorino, Black Garlic Ranch

$10

gluten free
Sandwiches
House Burger

1/2 lb. Beef Pattie, Bacon Jam, American Cheese, Lettuce, Tomato, Pickles, Mayo, Fries

$14

Make it a Double $8

Southerleigh Chicken Sandwich

Lettuce, Tomato, Pickles, Dukes Mayo, Fries

$14

East Texas Crawfish Roll

Soft Roll, Celery, Shredded Lettuce, Creole Butter, Fries

$15
Sides
Old Fashioned Corn Bread

$6

Jalapeño Cheddar Grits

$6

gluten free

Country Style Whipped Potatoes

$6

gluten free

Stewed Green Beans

$5.50

gluten free

Side House Salad

$6

gluten free

Mac & Cheese

$6

Add Lump Crabmeat $6
Every Saturday and Sunday 10:00am - 2:30pm!
Brunch
Join us for Lunch 10 am to 3 pm Saturdays & Sundays
Time for Breakfast
Freshly Squeezed Orange Juice

$5

Katz Coffee

$4

3 Eggs any Style

Fried Red Potatoes, Sausage or Bacon

$13

Malted Belgian Waffle

Whipped Cream, Fresh Berries

$10

2 PC. Southern Fried Chicken & Waffles

Maple Syrup, Crystal Hot Sauce Butter

$17

Braised Country Ham Benedict

Jalapeño Corn Bread, Cajun Cream Hollandaise

$16

Gulf Coastal Benedict

Crispy Seafood Cake, Creamed Spinach, Poached Eggs, Hollandaise

$18

Steak and Egg Ranchero

Ranchero Salsa, Queso Fresco, 2 Eggs any style, Red Potatoes

$26
Time For Lunch
Green Salad

Shaved Radish, Sweet Onion, Hard Boiled Egg, White Cheddar

SM $5

LG $7

Wood Fired Pretzel

Beer Cheese, Sweet and Spicy Mustard, Pickles

$9

House Burger

(*cooked Pink or Well Done) | 1/2 lb. Patty, Bacon Jam, Cheese, Lettuce, Tomatoes, Pickles, Mayo

$14

Crawfish Roll

Soft Roll, Celery, Shredded Lettuce, Creole Butter, Fries

$15

Crispy Fried Chicken Sandwich

Bacon, Egg, Mayo, Cheese, Lettuce, Tomato, Pickles

$12

Southerleigh Caesar

Pretzel Croutons, Crips Iceberg Lettuce, Pickles

$10

add Chicken $4

add Shrimp $8
Brunch Libations
Mimosa

Louis Perdrier, Brut Excellence, Fresh Orange Juice

Glass $6

Bottle $28

Pineapple cocktail

Pineapple Cider, Champagne, Pineapple Juice

$8

Frosé

Sweet and Fruity Frozen Rosé

$9

Southerleigh Michelada

Spicy Horseradish, Gold Export Lager, Gulf Shrimp

16 oz. $8

House Punch

$7

Cabernet Sauvignon, Cranberry, Orange Juice

Sauvignon Blanc, Pineapple, Lemon Juice
Choose A Side
House Made Toast

White or Wheat

$4

Fried Red Potatoes

$5

Jalapeño Cheddar Grits

$7

Mac & Cheese

$7

add Lump Crabmeat $6

Pork Sausage Links

$6

Maple Cured Bacon

$6

Fresh Sliced Melons & Berries

Honey Lime, Créme Fraiche

$6
Seafood Towers
Single

6 Oysters, 5 oz. Crab Claws, 6 Gulf Shrimp

$48

Double

12 Oysters, 7 oz. Crab Claws, 6 Gulf Shrimp, Stuffed Crab

$89
Caviar
AMERICAN STURGEON

Chives, Crème Fraîche, Zapps® Potato Chips.

$55
On Ice
Fresh Oysters Mkt Price

*Please ask for our current list of offerings* | Fresh Horseradish Cocktail Sauce, Balsamic-Shallot Mignonette

Gulf Coast Crab Claws

Celery Root Remoulade, Lemon

5 oz. $19

1 lb. $59

Iced Jumbo Gulf Shrimp

Fresh Horseradish Cocktail Sauce, Comeback Sauce, Lemon

8 pcs $18

Galveston Bay Shrimp Boil

Celery Root Remoulade, Drawn Butter

1 lb. $28
Today's Oysters
East Coast Oyster's

Please ask your server for current selection of East coast oysters

Village Bay, NB

Medium salinity with a bright clean finish.

$3.25

Mer Bleue, NB

A clean and slightly briny taste and a sweet finish

$3.50

Summer Love, PEI

Buttery, creamy meat that finishes with a perfect balance of salt and mineral notes.

$3.75

Glacier Bay, NB

Soft and plump flesh, presents a vivid, well defined flavor, with subtle fruity pear-like overtones.

$3.75
Due to market availability, no substitutions please.
On Ice
Iced Jumbo Gulf Shrimp

Fresh Horseradish Cocktail Sauce, Comeback Sauce, Lemon

8 pcs $18
Caviar
Cajun Caviar & Fries

Choice of Spicy or Original

$70

Original Cajun Caviar - 1.25oz

Wild caught bowfin fish from Atchafalaya Basin outside Lafayette, Louisiana. Served with Chives, Crème Fraîche, & Potato Chips.

$65

Spicy Cajun Caviar - 2oz

Wild caught bowfin fish from Atchafalaya Basin outside Lafayette, Louisiana. Canned with Ghost Peppers to provide mild heat & subtle sweetness. Served with Chives, Crème Fraîche, & Potato Chips.

$80
Daily Drafts
Gold Export Lager

Traditional German Lager, Balanced and Smooth. | 5.5% ABV 17 IBU

$6

Southerlite

Classic American Light Lager. Clean & Dry. | 9 IBU's, 4% ABV

$6

Standard IPA

A dry, balanced, citrusy, and demanding classic American IPA. | 69 IBU's, 6.8%

$6

Orange You Bitter

Light bodied citrus IPA. Notes of orange and tangerine. | 39 IBU's, 5.1% ABV

$6

I exist differently in the Zeitgeist

House solara sour, multiyear/multibeer aged blended sour, complex flavors, oak and a nice sour blend

$8

SABA COPPER ALT

Clean & Dry. Well balance, well attenuated, bitter yet malty, clean and smooth German style. Malty richness. | 32 IBU's, 5.9% ABV

$6

It's Just Red

Floral, stone fruit hop aroma and flavors. Balanced by light caramel and toffee notes. |35 IBUs, 5.7% ABV

$6

Gimme Some Mora

Kettle sour with mora fruit and pink guava. Tart, fruity, and funky. |7 IBUs, 4.4% ABV

$6
Beer & Cider in a Can
Omission Lager

Gluten Free | ABV 4.6%

$5

Austin Eastciders

Texas Honey | ABV 5%

$6.50

Austin Eastciders

Original Dry | ABV 5%

$6.50

Austin Eastciders

Pineapple | ABV 5%

$6.50

Texas Select

Non Alcoholic

$3
Wine by the Glass
Graham Beck

Sparkling Brut Rose

$14.50

Fabre Rose

Grenach-Shiraz

$10

Bourgogne Moillard

Chardonnay

$11

Babich

Sauvignon Blanc, New Zealand

$12

Altocedro

Malbec

$11

Aldonza

Classico, Spanish Red Blend

$11

Substance

Cabernet Sauvignon

$13

Annabella

Cabernet, Napa Valley

$15

Warre's Warrior

375ml Character Port

$8

Warre's Otima

500ml Tawny 20 Year, Barrel Aged

$17
Buy the Bottle
Champagne & Sparkling
Graham Beck Brut Rosé

Sparkling Brut Rose

$54

G.H. Mumm Cordon Rouge

Brut Champagne, Pinot Noir, Pinot Meunière, Chardonnay

$64

G.H. Mumm Rose

Pinot Meunière, Chardonnay

$80

Veuve Clicquot Brut

Pinot Noir, Pinot Meunière, Chardonnay

$88

Billecart-Salmon Brut Rosé Reserve

Pinot Noir, Pinot Meunière, Chardonnay

$120
Rosé
Fabre

Grenache-Shiraz

$36
Wines to Pair with Oysters
Caves De Sancerre Les Rochettes Blanc 2016

Sauvignon Blanc

$12.50

Beauredgard Muscadet Sevre Et Maine Sure Lie

Melon de Bourgogne, Loire Valley

$12

Hughes Beaulieu Picpoul De Pinet

100% Picpoul, Languedoc, France

$11
Frozen
Frose

Sweet & fruity frozen rose wine.

$9

Peach Perfect

Frozen White Peach, Chili Salt Rim

$9
Handcrafted Drinks
Punch Rouge

Red wine, fresh cranberry, citrus juice

$7

Punch Blanc

Sauvignon Blanc, pineapple, lemon juice.

$7

Mimosa

Blanc de blanc Paul Chevalier, fresh orange juice.

Glass $6

Bottle $28

Pineapple Cocktail

Pineapple Cider, Blanc de Blanc Paul Chevalier, Pineapple Juice

$8
Kid's Menu
Grilled Cheese

Grilled Cheese Sandwich Served with a Choice of a Side

$8

Fried Chicken Wings

$8

Fish Sticks

$8
Kid's Sides
Buttered Corn on the Cob

$3

Kid's Mac

$3

Kid's Fries

$3